I seriously cannot stop read Fan Fiction. I have so many stories bookmarked on my laptop that as soon as I finish one I begin another. I am also reading a real book that I am really enjoying called, "The Red Tent". I'll review when I have completed it. I have also been crocheting and will be posting a pattern in the next couple of days. But for now here are a bunch of fics for your enjoyment. All of the stories that I share on here are for mature readers only.
As always click on the banner to be brought directly to the story.
WIP = Work in Progress

He gave me art and words and passion and life, but all I wanted was him. WIP
~~//~~
Edward is a rebellious newborn lashing out at those who try to help him. At his wit's end, Carlisle asks Isabella, the woman who was once his mentor, to take Edward in until his bloodlust cools.
~~//~~
"Did you just get vagina slapped by a stripper Edward?" What happens when a man-eating handmodel named Bella and Edward, an asshole who's bored w/vagina meet in Las Vegas? WIP
~~//~~
What if Bella was embraced by the Denali coven before the Cullens? After Bella finds happiness and sisterhood that she never had, how have would her relationship with Edward panned out then?
~~//~~
When Edward left after Bella's 18th birthday Jacob was left to pick up the pieces. What happens when Bella wakes up 4 years later on the side of the road next to her lifeless husband realizing he isn't the only one who's dead? WIP
~~//~~
Bella and Alice were best friends, which made Bella the only girl off limits to Alice's brother Edward. When a party the summer after graduation gets out of control, Bella's world is turned upside down. "He doesn't know. I don't want him to." WIP
~~//~~
Bella once told a lie. A lie that cost her everything she ever wanted. 10yrs later, she returns to her hometown to an ailing father, an angry ex-best friend, and the man from whom she has kept a secret that threatens to unravel her existence. WIP
~~//~~
Bella prefers the virtual to the actual, but feels herself being tugged from the safety of her online realm into the world of a rough edged Edward. This time she'll write her own story.
~~//~~
When Private Eye Edward Cullen decides to investigate the "accidental death" of an old friend, he finds more people are involved then he originally theorized as the case takes twists & turns he never saw coming after Bella Swan arrives in town.
~~//~~
The Goal: Lose 70lbs. The Prize: One steamy night with her personal trainer. When overweight Bella is left by her husband, she is determined to lose weight with the help of Edward Masen. What starts off as payback ends up as so much more.
~~//~~
Edward is an actor filming in Forks where he meets Bella. Their worlds are different, but when they're together, they are just Edward and just Bella. Can they survive when their pasts come back to haunt them?
~~//~~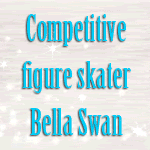 Competitive figure skater Bella Swan meets NHL hockey player Edward Cullen. Bella's Olympic dreams are crushed by injury. Can he help her find the strength to take the ice again? Will they find love and friendship in the meantime?
~~//~~
An Untitled Continuation of the Twilight Saga
This story begins almost six years after Bella became a vampire. Renesmee is almost an adult and has begun to attend an all-girls private school while the rest of her family begins classes at the nearby public school. The story has shifting point-of-view.