I can't believe that I actually survived an entire year of writing this blog. Sure, I don't keep up with it as often as I'd like but the fact that it hasn't been completely abandoned yet is an accomplishment in and of itself.

Ok...I am done patting myself on the back. I have some more FanFiction recommendations for you.

If a banner has been made for a story I will use that as the link for the story. Just click on the pic and it will bring you directly to the story. I will also add a summary for the story. (Look at how fancy I'm getting with this whole blog thing!)

I really really loved this story!


Jasper Hale, 21, is the son of a popular televangelist in Phoenix, and he couldn't be any further from a church-going goody two shoes. His attitude toward work, attending class, or contributing positively to society is lackadaisical at best. He drinks, smokes, and has a penchant for deflowering teenage girls. Bella attends private school with Edward Cullen, a senior who she's been in love with since ninth grade, when he moved to Phoenix. Too bad Edward is dating the most beautiful girl at St. Mary's, and doesn't even know Bella exists. But when Jasper sets his sights on Bella, Edward can't help but take notice. Will he protect her from girlfriend Rosalie's impious older brother? AH/AU/OOC and all that good stuff.
~~//~~
Another great story!


The perfect person appears at the worst possible moment, and one unforgettable encounter changes everything. AH
~~//~~
I really had high hopes for this. It started out so cute and funny but then it just too weird for me and I didn't find it very funny at all. It's only 9 chapters long if you want to give it a shot.


Accidents happen. Sometimes you die and meet God. Sometimes you live and meet SexGod. B&E. AH. AU.
~~//~~
I really enjoyed this!



Half of Hollywood's most famous couples are faking it. That's how Bella Swan's publicist convinces her to pretend to date troubled Hollywood bad boy Edward Cullen. And she'll do anything for her band and her music
.
~~//~~
I liked this one a lot, too.


Um. Hi. I don't really know how to say this, but I have your kids with me, and I was thinking maybe you would like them back. So yeah… call me.
~~//~~
Love this story! This one is HOT! HOT!! HOT!!! It's still in progress and I squeal in delight when I get an email notification that there is a new chapter up.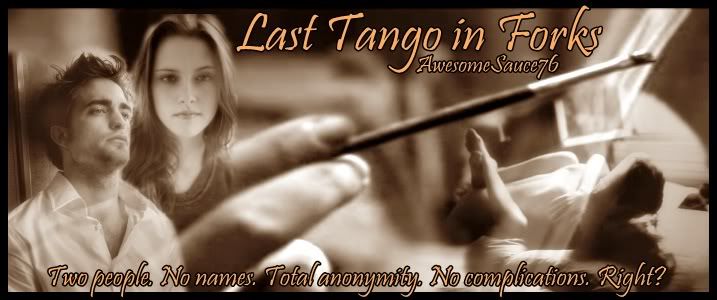 Bella Swan has spent a lifetime putting everyone else's needs before her own. Could a chance encounter with a mysterious stranger begin to change all of that? AU/AH
~~//~~

I can't find a banner for Boy in the Red Sweater. I really liked this story and love Sweaterward!


Laced in silence and bound by his black web of a backpack, the new boy dressed in the faded red pullover is driving Bella insane with curiosity. Don't judge a boy by his sweater. AH. M for future chaps, language, dark themes.
~~//~~

Mr. Horrible was another cute story. A bit weird but I enjoyed it.
They meet at a gallery, from two different worlds. Watch as they learn... oh, who am I kidding here? They meet. They are opposites. They attract. Rated M for serious potty mouth and scenes of the citrus variety.
That's all for now. Happy reading!!