I needed a new cell phone since Eva banged mine on the table a couple of weeks ago and since then it's been freezing up and turning itself off. I've always wanted a smart phone but didn't need one. It seemed like a waste of money and couldn't justify the extra cost.

I was browsing through Verizon's website checking out the cell phones when I saw this.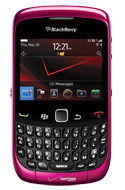 It screamed out to me and I caved. It's the Blackberry Curve 3G9330 smartphone in fuchsia. Is it the latest and greatest model? Probably not considering the promotional price. Does it have a fancy shmancy touch screen? Absolutely not. I hate touch screens. Is it the fastest? Who the heck knows? But it's pink and I love it!


And it's mine.